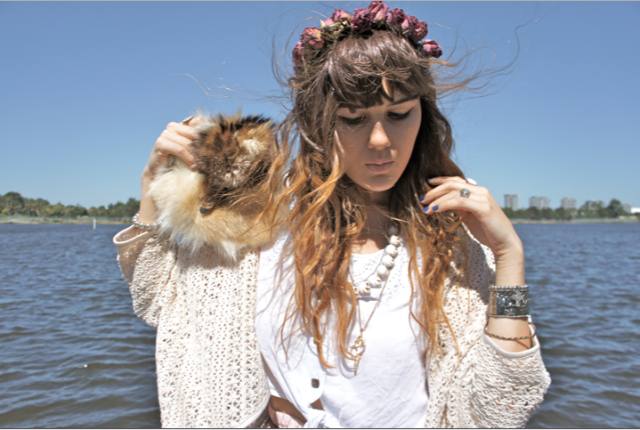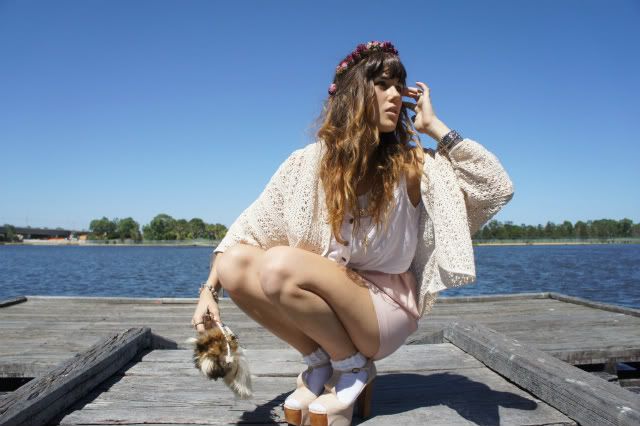 White Cami - Somedays Lovin
Crochet Cardigan - Somedays Lovin
Skull Necklace - Ladama Hardware
Shell Pendant - Subiaco Markets
Fox Head Bag - Antique Markets
Shoes - Jeffry Campbell Foxy Wood Wedge (Pink)

I simply love sitting by the river and watching the wold go by~ Which is probably why it's become one of my very favourite places to take photos! Although next time I probably won't be taking them in the middle of the day. It was so HOT that by the time we finished I looked as though I'd taken a dip in the river made entirely of sweat. Ew~ haha!
I am a big fan of wearing lovely light colours in the summer, so gorgeous pastel pinks have been on constant wardrobe rotation as well as lovely loose fitting items - cause seriously, who wan't to wear body-con in summer?
My favourite part about this outfit is the Wreath in my hair. My sister made it for me out of the 50 long stemmed roses my mum received when she turned 50 last year, so it just has a lot of sentimental value.
❤
Anyway, if you would like to see more photos of my outfits you can always go to PINEAPPLE NIPPLES as my lovely photographer uploads them, along with some of her own stuff, like wildfire!
Look forward to next weeks post, I'm planning on something a tad darker than usual!